So, here's where I'll be putting little sneak previews and such for the new webcomic, at least till it's properly online over at keenspot.com.
Just finished up the (third draft of the) front cover; here's a small version of it: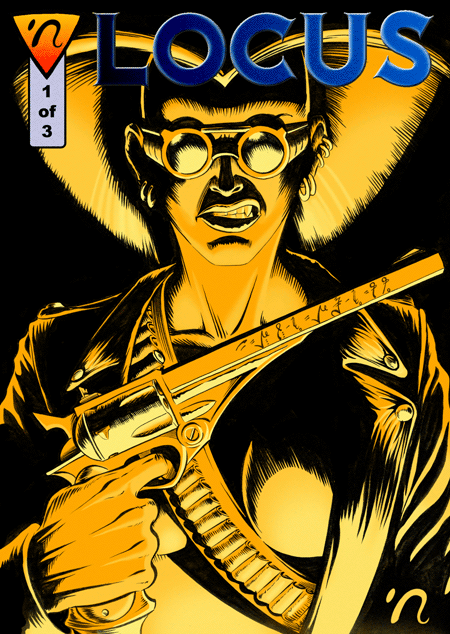 It's gonna be a fun comic. Like I said over in the K4K sticky thread, it's all "Boobs, Blood and Bad Language", but it won't be as awful as it sounds. When your average comic has one or more of those three things in it, it's usually pretty juvenile and stupid.
For the record, both my daughter and my mother absolutely love it. My wife, too. It's not degrading or demeaning to women in the slightest. I don't write or draw crap like that.
The comic is about this girl, Locus, avenging her father's death. Well, it's about a LOT more than that, but that's where we're going to begin. She's really not self-conscious at all, and when she starts fighting, she takes off that leather jacket and BEATS THE CRAP out of everyone in her way, with no shirt on. There's actually a reason for that, but you have to read the comic.
It's kind of a "girl power" comic. Only with monsters. And cusswords--in English and Spanish!